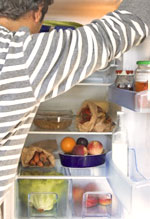 Standalone fridges, like freezers, are among the most reliable domestic appliances on the market – only 7% need to be repaired in the first six years, according to our annual fridge reliability survey.
If something serious does go wrong within this time – or if you have a top-of-the-range model – it's usually worth seeing if your appliance can be fixed rather than replacing it. A new freestanding Best Buy fridge would cost a little over £200.
Before calling Read the manual for common problems, maintenance advice and fixes that you can do yourself.
For example, if it runs normally but the inside light's not on, the bulb has probably blown, so unplug and change the bulb.